We are pleased to announce that signing of the Protocol continues the long and prosperous cooperation between DDOR NOVI SAD a.d.o. and the COOPERATIVE UNION OF VOJVODINA.
The cooperation primarily pertains to the domain of insurance of agricultural production, which encompasses insurance of crops and fruits, and insurance of livestock owned by cooperatives and agricultural producers (cooperants and subcontractors of cooperatives). Increasing the use of agricultural insurance and providing the most favorable insurance offers for the policyholders increases the level of protection of agricultural production.
Of course, the real benefit is that agricultural producers will have a direct and easy way of receiving all the necessary information, as well as most favorable and competitive insurance offers. This direct cooperation will also help DDOR NOVI SAD gain invaluable experience in the domain of agricultural practice and day-to-day activities, which it will, when needed, incorporate in existing and future insurance offers.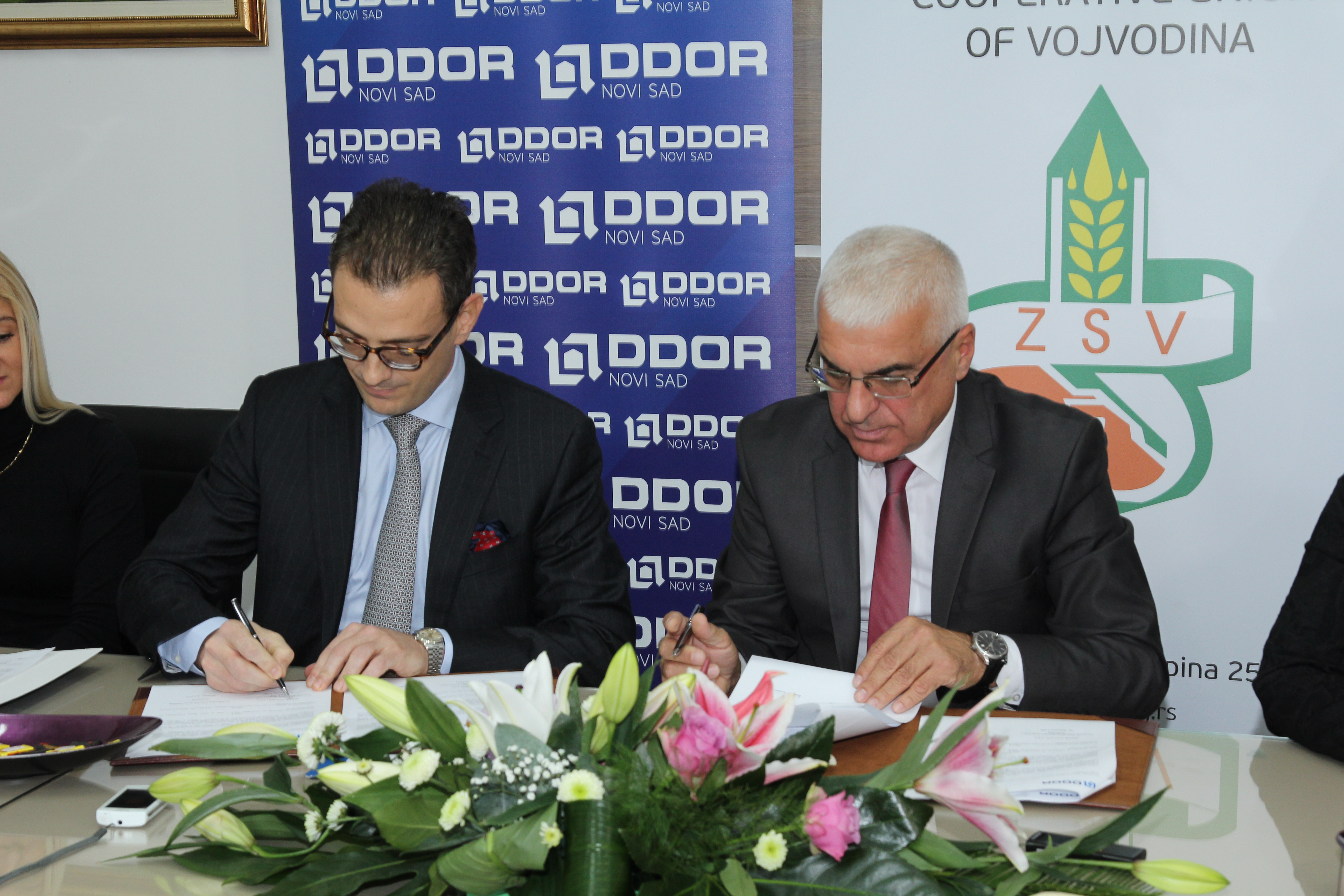 Frequent natural disasters and changes in the weather inevitably cause damage to agricultural products. In such conditions when agricultural practices are not enough, insurance of agricultural production, as a means of providing commercial protection, becomes a necessity. By insuring your crops and fruits you can protect them from numerous risks they are exposed to throughout the year. In Serbia, insurance of crops and fruits and livestock insurance are mostly used by professional agricultural producers and agricultural companies. Unfortunately, the majority of small agricultural producers, especially those who farm smaller areas of land, are not insured, therefore their yield greatly depends on the whims of nature. The reason for such a small percentage lies in the fact that agricultural producers are insufficiently informed of insurance benefits, and the fact that insurance of poorly developed agricultural production is not profitable due to low investments and poor yield. The interest in insurance will grow among the agricultural producers if agricultural production intensifies and if investments increase with the aim of ensuring high yields. However, it is necessary to ensure continuous education of producers and the general public.
Here is an example of why this is necessary: it appears that the farmers from ex-YU countries were unaware that floods are the first in the list of as many as 133 natural disasters. Floods are followed by storms, earthquakes, draughts, and fires. This means that the percentage of insured agricultural households in these countries is unlikely to reach the percentage of insured households in France and Austria which is, according to statistical data, 80% and 90%, respectively.
Given the above, it is of paramount importance that larger areas of agricultural land be insured, which would go a long way in avoiding negative consequences not only for farmers but for the country's economy as well. It is also vital that this type of insurance becomes mandatory, as is proposed by DDOR NOVI SAD and other insurers in Serbia, as well as organizations such as the COOPERATIVE UNION OF VOJVODINA.