Press conference held on the occasion of the signing of the Protocol on Cooperation.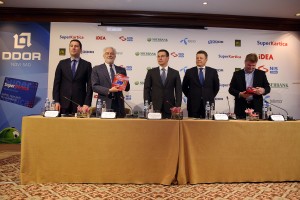 On 12.05. a press conference was held regarding the signing of the Memorandum on Cooperation between "DDOR Novi Sad", new partner in "Super Kartica" loyalty programme, and programme partners IDEA, NIS, "Sberbank" Serbia, and "Telenor". "McDonalds" Serbia has also joined the programme.
The Memorandum on Cooperation was signed by the General Director of "DDOR Novi Sad", Christian Otto Neu; General Director of NIS, Kirill Kravchenko; General Director of IDEA, Aleksandar Seratlić; President of the Executive Board of "Sberbank" Serbia, Valeriy Ovsyannikov; and General Director of "McDonalds" Serbia, Tomaš Rogač.
The General Director of "DDOR Novi Sad" expressed his satisfaction with the fact that our company joined the well-designed and appealing loyalty programme "Super Kartica", thus becoming part of the team of companies that own exceptional brands on the Serbian market and beyond. "'Super Kartica' will allow us to provide our clients with additional benefits and attractive discounts in exchange for our clients' loyalty", said Neu.
DDOR has prepared a number of benefits when writing insurance policies from our offer, which would result in points being added to Super Kartica, regardless of the method of payment (cash, payment cards, checks, installments, etc.).
More information on the method of collecting points when purchasing DDOR policies can be found here.