DDOR osiguranje offers another benefit for purchasing insurance – this time for agricultural insurance, for users of NIS Agro card.
Thanks to our cooperation with NIS, aside from getting a discount when purchasing fuel, users of Agro card will also receive from DDOR a 10% discount voucher for the agricultural insurance policy, along with the receipt and the non-fiscal receipt.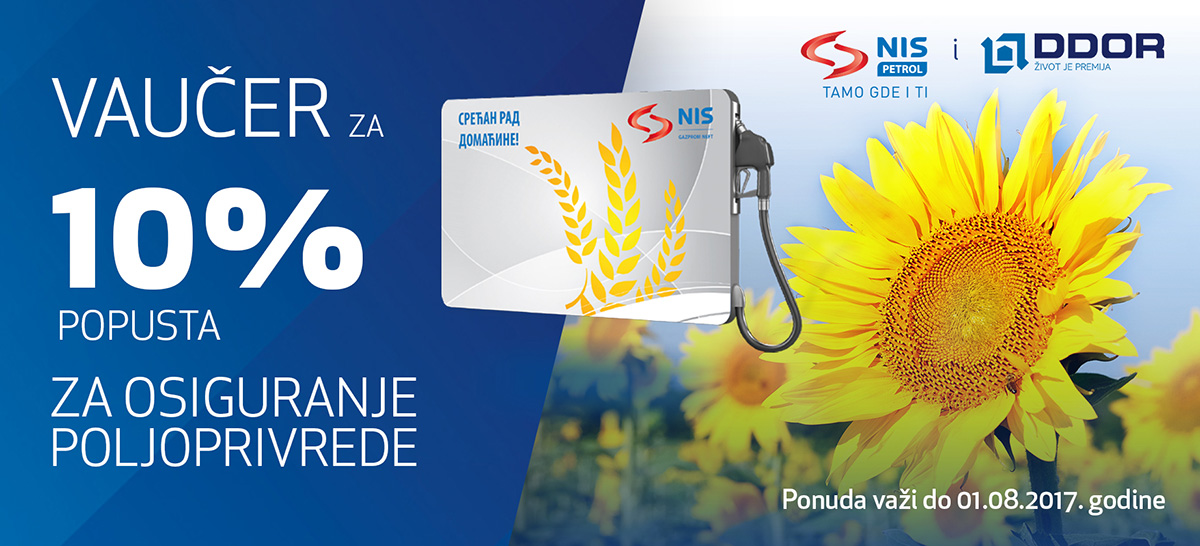 Details on this campaign, lasting until August 1, 2017, are available at our companies' websites: www.ddor.rs and www.nispetrol.rs.
During the height of the agricultural season, such campaigns are certainly welcome, and customers find them attractive.
On behalf of our partner, company NIS, we would like to reiterate that users of NIS Agro card get a discount of RSD 5 per litre of euro diesel, RSD 3 per litre of gas oil 0.1, a 15% discount to NISOTEC oils and lubricants, and a 20% discount to the assortment of consumer goods in stores within petrol stations.
NIS Agro card is issued free of charge, with a very simple procedure. More details on issuing and using NIS Agro cards are available at www.nispetrol.rs. For more information, you can also call the NIS Call Centre at 08 0000 8888, free of charge.
This campaign of DDOR osiguranje and company NIS is a partnership project within the Super Kartica loyalty programme.