The recently opened Belgrade Car Show, sponsored by DDOR, was the occasion for last year's campaign "For a forest in your area", as a result of which hundreds of trees will be planted in cities across the country. Belgrade is the seventh city, after Vršac, Subotica, Sremska Mitrovica, Smederevo, Zrenjanin and Novi Sad whose streets and parks are adorned by hundreds of new trees, with Užice, Tutin and Novi Pazar still waiting for the afforestation. Today, Francesco Masci, Chairman of the Executive Board of DDOR Osiguranje and our Olympian Zorana Arunović, the first to secure a quota for Paris 2024, symbolically planted a tree together. Having recognized the importance of this campaign, which goes hand in hand with the long-term strategy of Unipol Group and DDOR Osiguranje as its member, the company has included this project in its three-year plan and extended the campaign in 2023 to all 12 months of the year in order to provide more funds to make Serbian cities even greener.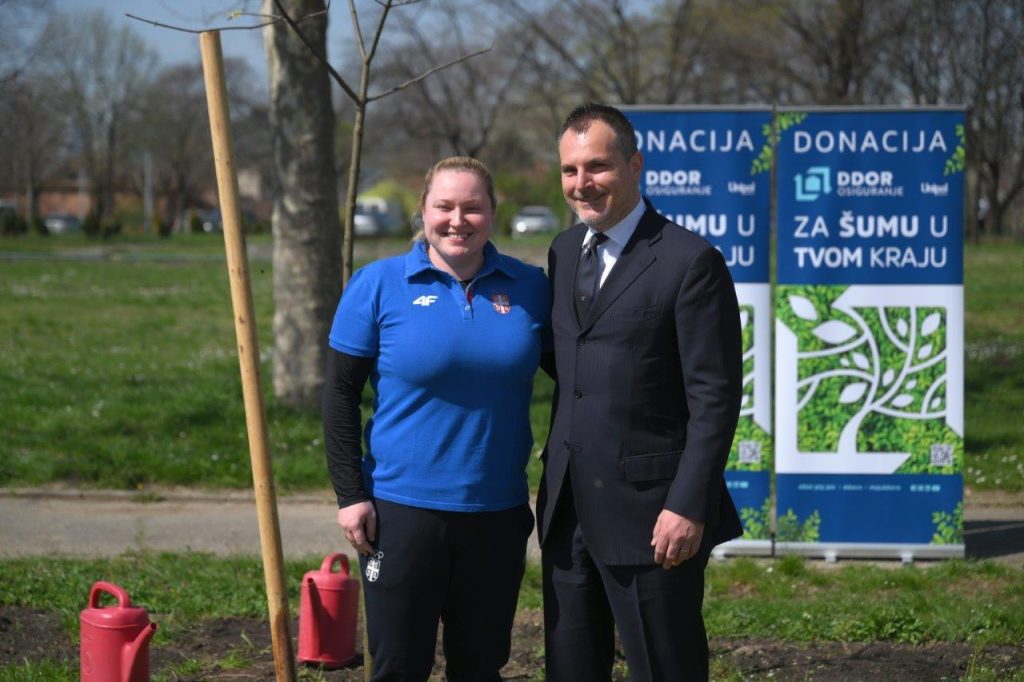 Speaking at the event, the Chairman of the Executive Board of DDOR Osiguranje, Francesco Masci, said:
"It goes without saying that we are aware of the key role that the insurance sector plays in the economy and in the fight against climate change. It is a particular pleasure for me to speak on behalf of DDOR and our Unipol Group, because we are fully committed to the protection of the environment, the reduction of greenhouse gas emissions and the fight against climate change, which is one of the five sustainable development goals of the 2030 UN Agenda, integrated in our Group's strategy. The Strategic plan 2022-2024 "Opening new ways", in which we have set very ambitious ESG goals, reinforces the desire of Unipol and DDOR to contribute to the sustainable development goals using the resources of the Group and its business domain to create new opportunities and meet new challenges." He added: "We are very happy to have Mrs. Arunović with us today. As you may know, she has recently qualified for the Olympic Games in Paris. Paris is a beautiful city and, while we are on the topic of climate change, it is the place where the 2015 Paris Agreement was signed. Serbia ratified the Agreement in 2017 and adopted an action plan to limit the increase of the average global temperature to 1.5° C. It is a turning point in the global strategy for securing long-term sustainability and the future of our community, because even the smallest action can make a difference, and climate change is an urgent issue, a risk which can affect all our lives and the future of our business. I would like to take this opportunity to thank the City of Belgrade for its support and contribution to our joint efforts to make cities greener and healthier."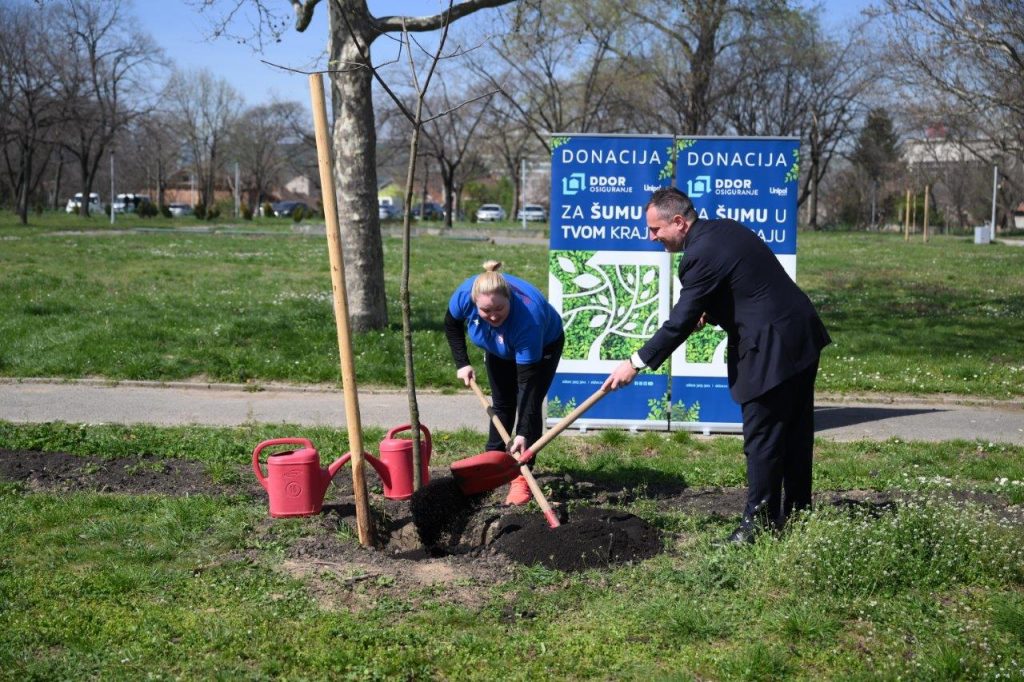 Olympic team member and world and European champion in sport shooting Zorana Arunović thanked the organizers for inviting her to participate in the campaign and said:
"I am happy to be part of this project and I will always gladly participate in campaigns like this one, because the protection of the environment and sustainable development should be at the top of everyone's priority list. I am proud that Belgrade is one of the ten cities where DDOR is carrying out this noble campaign. It makes me particularly happy to know that my fellow citizens recognize and support these activities and that we are working towards a common goal – a better and healthier environment for all." She then added: "I must highlight that for many years DDOR Osiguranje has recognized elite sports as the right place to invest and our athletes as true role models in our society. One great example and proof of this is that they have rower Zoran Pančić, former Olympian and gold medalist, on their team. With this project, they have once again shown that they stand for true values and send the message that environment and living conditions in cities need to be improved.
I sincerely hope that there will be more similar campaigns in the future, that other socially responsible companies will follow their example, and that we will continue to make our city greener and healthier."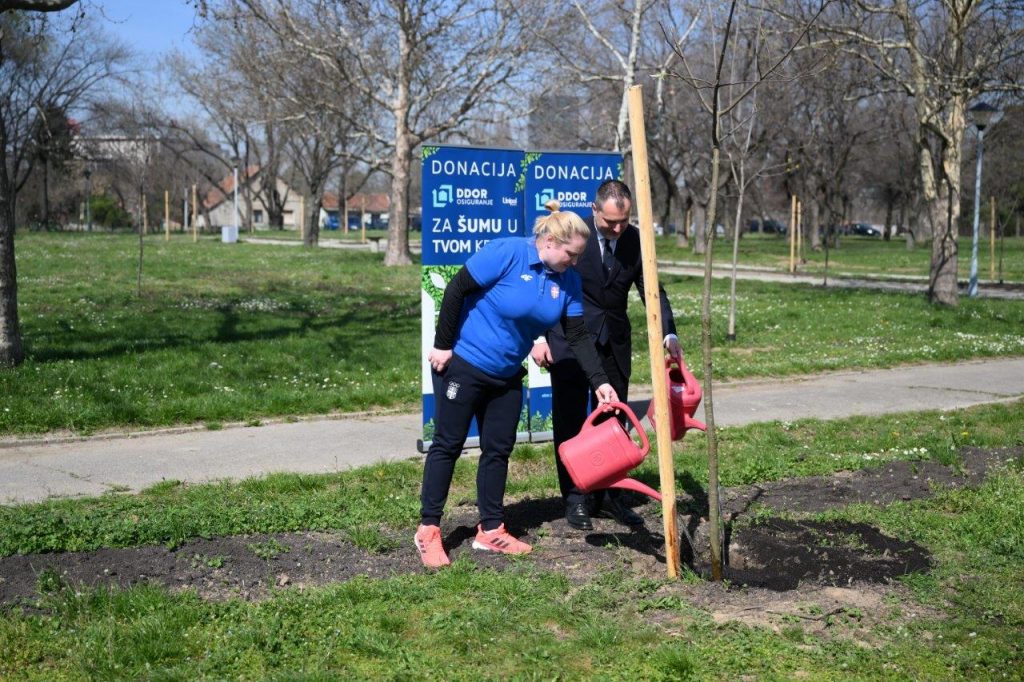 Before Belgrade, 50 trees were planted in Novi Sad in December 2022, in February 2023 78 were planted in Zrenjanin, 21 in Smederevo, 44 in Sremska Mitrovica, 42 in Subotica, and 100 in Vršac. As previously announced, a new cycle of the project "For a forest in your area" began in 2023. In addition to the completion of the campaign launched in 2022, it also includes the allocation of funds from each stipulated eco-policy of DDOR for tree planting in the following year. By arranging eco-Casco or eco-Moja kućica insurance, as well as annual eco-Travel insurance package, our clients contribute directly to the number of new trees planted in cities throughout Serbia.