FINANCING THE PREMIUMS FOR INSURANCE OF CROPS, LIVESTOCK AND MACHINERY
Maximum security with DDOR Novi Sad and Credit Agricole
Protect your produce with:
0 % deductible,
0 % interest (DDOR subsidy)
+ 100 % protection
= 100 % only with DDOR
 IN COOPERATION WITH CREDIT AGRICOLE BANK DDOR NOVI SAD U CAN OFFER YOU SIMPLE PREMIUM FINANCING.
Using a bank loan, with no additional costs or interest (DDOR subsidizes interest costs);
Advance premium payment enables you to request an insurance premium refund (40%) immediately after insurance inception and the beginning of the production cycle;
Financing enables use of funds obtained through premium refund when they are needed most;
Registered agricultural farms are able to obtain insurance policies in a simplified procedure and in cooperation with the Bank, in expedited proceedings, to obtain the necessary documentation for loan approval.
 Details regarding loans for financing agricultural insurance and the necessary documentation here.
Map of CA and DDOR branch offices on the territory of Vojvodina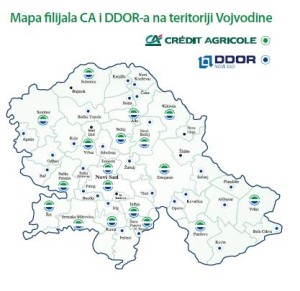 For additional information, please call Customer Center of DDOR Novi Sad: 021 480 2222.