MTPL Policy
Complete safety with the exclusive privileges
Obligatory, but useful
Motor liability insurance policy is an obligatory document in the process of registering your vehicle. This policy provides protection in the event of incurring damages to a third party while using your vehicle.
Insurance trusted by drivers
DDOR is an insurance company based on experience and trust, which we have been building with your help for over 70 years. At the moment, over 200,000 clients hold policies of our motor liability insurance. We also owe a part of our success to the fact that the percentage of efficiently paid out claims is 98%.
My benefits
European Accident Report, which you will receive when concluding insurance, and which must be on your vehicle, as prescribed under the law.
The amount of premium stipulated using bonus/malus system is determined as the product of the premium of basic (fourth) premium level and premium level quotient, pursuant to the following formula:
Pbm = Po * ki,
where:
Pbm – premium established by applying bonus-malus system
Po – premium of basic (fourth) premium level
ki – premium level quotient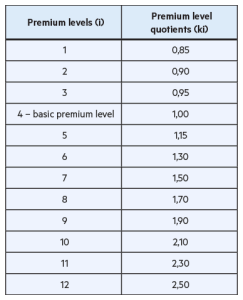 Entitled bonus / malus is related to the vehicle owner and does not transfer to the new owner of the vehicle.
Green card
In order to travel abroad, you need to have a Green card. This provides coverage of costs for damages and injuries incurred by your vehicle while you are abroad. This document can only be bought from the insurance company that insured your vehicle.
Green card can be purchased in any "DDOR Novi Sad" branch office, local office or an agent.
What is the Report on traffic accident used for?
As of December 10, 2009, all drivers are obliged to have a copy of the Report on traffic accident in their vehicle and to use it (fill it in) in the event of a traffic accident. This report is used in case of accidents that include smaller material damages, with no injured persons or victims, i.e. when there is no need for the police to conduct an investigation, except if one of the participants demands the presence of police. Primarily, the report on traffic accident is necessary for the collection of the insurance indemnity. The report should be completed carefully, in line with the instructions included in the report, and it should be signed by all drivers – participants of the traffic accident.
On submission of the claim form, it would also be good to submit photographs of vehicles involved in the accident, as well as the accident location, if you had the chance to take such photographs.