DDOR osiguranje's activation on the occasion of the FINAL FOUR tournament has a positive effect on behavior
DDOR osiguranje, actively supports brave athletes on their paths to success and, in these days as a proud partner of EuroLeague. As part of Unipol, a leading European financial group and as a socially responsible company, DDOR has been a partner of various sports organizations and events for years. The first half of 2022 will certainly be marked by the FINAL FOUR tournament, which will be held for the second time in the last few years in Belgrade from May 19 to 21, 2022. DDOR osiguranje will be present at this event in the FAN ZONE on Savski trg, where the sponsors of this sport spectacle will have the opportunity to organize interesting programs for visitors, and for all those who do not have the opportunity to watch matches from Stark Arena, matches will be broadcasted live. DDOR will focus its activities on raising awareness about the harmfulness of alcohol abuse and opiate use, which can have a detrimental effect on health, participation in traffic and sports. Activation "Second view of the basket" will allow all visitors to experience free throws with special glasses that simulate the state under the influence of alcohol or drugs. Anyone who manages to throw in three free throws with glasses and 3 without them will receive an official FINAL FOUR basketball as a gift, and other consolation prizes have been prepared for the other participants.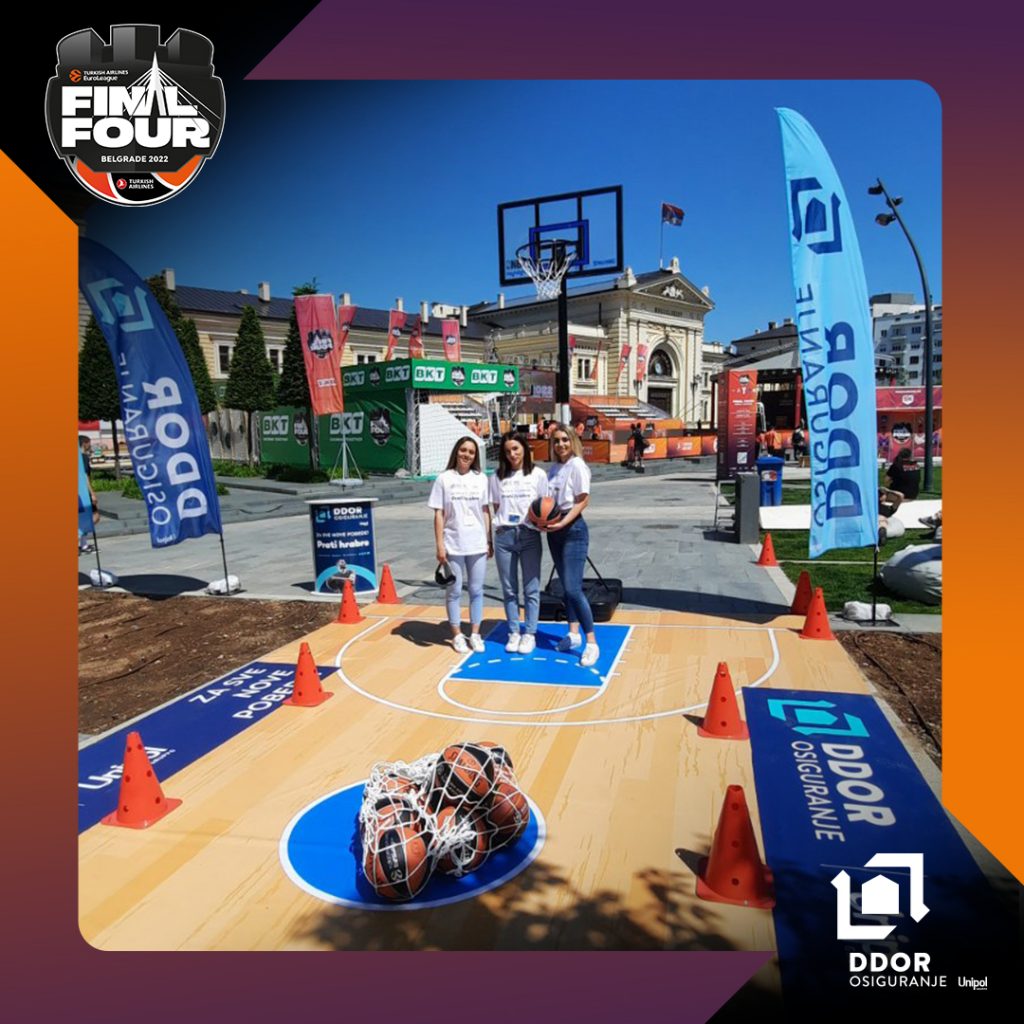 On the occasion of DDOR's entering into partnership with EuroLeague and the beginning of Final Four tournament, Francesco Masci, CEO of DDOR osiguranje stated: "It is a great pleasure that DDOR osiguranje is amongst the sponsors of the EuroLeague Final Four Fan Zone, which is held in Belgrade, in one of the most beautiful and impressive Arena worldwide. Further to the outbreak of the pandemic, and after so many complicated years, thousands of supporters from all over Europe can finally gather to watch the finest basketball in the continent, sharing their passion and emotions in such an exciting backdrop. Basketball spirit and sport values can be easily integrated into everyday's life and professional performance: there are no shortcuts to success on the field or in life and excellence is the gradual result of always striving to do better. The scoreboard won't show the satisfaction for each player of knowing he gave everything to each teammate in pursuit of a common goal. That is what team is all about. Let's enjoy this exciting journey, the show is about to start!"
The DDOR activation zone will be available to visitors every day from May 19 to 21, 2022, from 10 am to 10 pm on Savski trg in Belgrade. At the same place, on Thursday the 19th and Saturday the 21st  of May, live broadcast of all matches from the Stark Arena will be organized at 6 and at 9 pm, and a spectacle is expected on Friday 20th from 5 pm on the basketball courts, which includes basketball games, 3×3, dunking and shooting for three points. These attractive activities include both the participation of already registered teams and the participation of FAN ZONE FINAL FOUR visitors.
We invite all sports lovers to join us, with friends and family and be part of this unique spectacle in which DDOR osiguranje will contribute by raising awareness of the importance of responsible behavior, healthy living, care for yourself and others and creating a safer environment for life and work.