HOW THE INSURANCE POLICY IS PROTECTING US
Great joint effort of the DDOR Branch Pančevo employees

Experiences that we have from meteorological conditions that are getting stranger every day, along with many other situations that threaten our health, life or property, show us that insurance policies are becoming very necessary and that it is a smart investment.
A few days ago Central Banat was hit by big storm that cannot be remembered. According to the testimonies of the citizens of Pančevo, they were witnesses to meteorological phenomenon rarely seen in these areas:
twisters or popular -tornadoes. It was destroying everything that was in its way, accompanied by huge amounts of ice. Ice balls were very big (which is perfectly illustrated in the attached photos). In regions hit by this storm damages are catastrophic.
The citizens of Pančevo and our colleagues from DDOR Branch Pančevo, have recorded how the storm looked and what its effects were: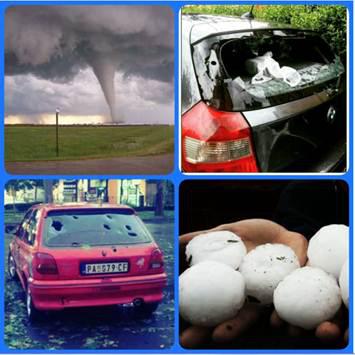 A huge number of vehicles are damaged, in most cases by ice that was the size of an apple or a human fist. In the Aviv mall that owns parking of a capacity for around 300 vehicles, all vehicles parked in those hours, have suffered severe damages of paintwork, and glass on most of them are not just broken or cracked, but in some cases simply punctured, due to the crash force of the ice balls.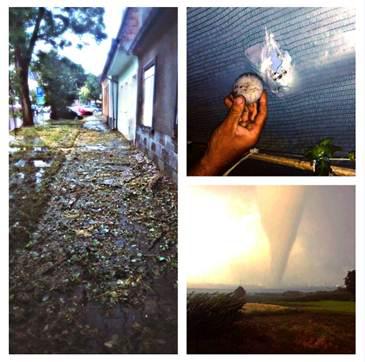 The thing on which we are particularly proud is the fact that all employees in DDOR Branch Pančevo were offering their services with the maximum engagement since early this morning 21/06/2016, to their fellow citizens who have addressed them for consultation when submitting claim request or reporting a claim. All employees in the building of Branch Pančevo on 21th and 22th of July 2016 were in fact working in the Claims department.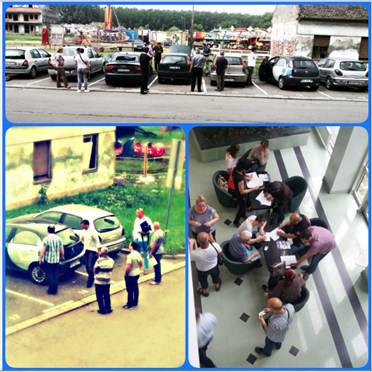 For now it has been recorded and reported about 130 casco and over 150 property claims, crops claims are still reporting and estimates have already begun where the land is dry and where it can be reached out and check the condition of damaged crops. So far we have not received any request that would be related to the body injuries of someone from Pančevo.
Unfortunately for, a big number of insured persons who had only MTPL policy called us, and they have come to ask whether there is a possibility for them to get any compensation. Also it is scary that most of them after our response that MTPL policy does not provide cover for, in this case presented risk, and with the offer to conclude casco or any of the packages with MTPL, they have responded: Well this won't happen again! What will I need it for?!

The most important thing that happened in the period from July, 21 till this day is that really no one from the DDOR building did not go dissatisfied, angry or without the response and / or instructions for further activities related to claims or getting new insurance.
Already now clients started calling us, interested in casco insurance, property insurance and crop insurance. All acquisitions are done with the obligatory consultation with underwriter colleagues and appraisers, and in accordance with prescribed procedures.
In any case, this is an event that happens once in 100 years, and everything that comes with it, as well as all the events related to our work, represents a great experience for all of us employed in insurance business. Now is the opportunity to learn as much as we can, so that we can be ready for some new events in the future, but also to educate as many citizens, which is one of our primary missions.