The NAVAK Centre hosted the event "Sigurno – Yamaha!" on Saturday, June 14. This event was organized by "PlattnerMoto&Marine" company, which is the Yamaha importer for Serbia, and supported by "DDOR Novi Sad" and "Delta Team" from Krško. The main goal of the event was to promote and improve motorcycle safety.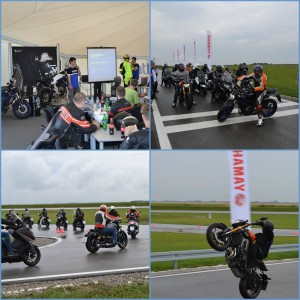 Around 70 guests attended the event, and had the chance to find what the most important elements of safe driving are, from controlling the motorcycle to using safety equipment and driving techniques. The event included theoretical and practical demonstration, with the help from a professional trainer in motorcycle safety, MarjanSelk from Slovenia.
All the novelties from the line of Yamaha motorcycle scooters from the 2014 programme were presented, and the guests had the opportunity to test drive these vehicles in perfectly safe conditions. BenoŠtern, European SuperMoto Champion was in charge of the demonstration of MT-09 model.
After the programme had been concluded, the most common comment that could be heard was Serbia never had an event like that, and that there was a lot to learn and try.