On November 18, in cooperation with the insurance company DDOR Novi Sad, company Autočačak d.o.o. organized an event, first of such kind, where Škoda automobiles were presented. This was a unique opportunity to test new Škoda models on the only race track in the surroundings, more familiar as NAVAK track in Subotište, with professional support from certified instructors of the National Driving Academy.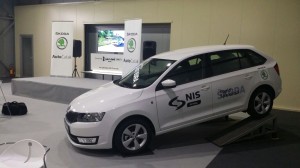 Exclusively for representatives of the media and business associates, buyers of motor fleets, Autočačak company arranged the delivery of the new Škoda Fabia model, which is to have its premiere at the beginning of next year.
Since the entire day of the event was rainy and windy, everyone present had the unique opportunity to test their driving skills in extreme conditions, on slippery and wet roads, which was also one of the reasons they were more than satisfied with the event.
As expected, the "test drivers" were especially impressed by the new Škoda Fabia, which was delivered specifically for this event from the factory in Mladá Boleslav. The tested models had 1.0 petrol and 1.4 TDI dieselengine. Everyone present agreed that the new Škoda represented a great step ahead for the company that is making great strides towards winning over new buyers and markets with each new model they launch.